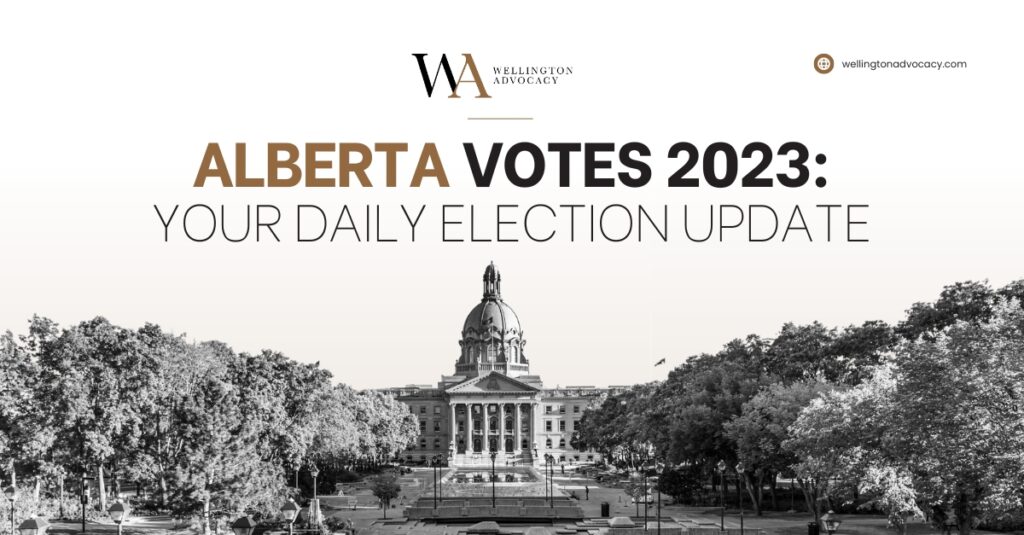 Day 23
Election Day: May 29, 2023
Latest Polls
Overview
Advanced polls are now open. Both the UCP Leader and NDP Leader cast their ballots early. Electors can vote at any of the advance voting locations between today and Saturday, May 27. As of this afternoon, over 106,000 ballots are already cast. In the 2019 provincial election, approximately 696,000 advance ballots were cast, accounting for over a third of the total ballots. With less than a week to go, recent public polling points to increasing favourability for the UCP. Both campaigns are using this week to attempt to sway the remaining undecided vote with pointed communications. The undecided vote remains high, and pollsters suggest the number has increased over the course of the campaign.
Today

UCP candidates Adriana LaGrange (Red Deer-North) and Nathan Cooper (Olds-Didsbury-Three Hills) made an announcement this morning. The announcement focused on providing opportunities for young people to build their careers. Promises included promoting career pathways in high schools by partnering with associations to increase career fairs, creating an online career counselling service, increasing funding for career and technology studies, and enhancing off-campus education opportunities.
In Medicine Hat this afternoon, NDP candidates Shannon Phillips (Lethbridge-West), Gwendoline Dirk (Brooks-Medicine Hat), and Cathy Hogg (Cypress-Medicine Hat) held a media event drawing attention to "Danielle Smith's Hidden Agenda." The three NDP candidates focused on repeating existing NDP criticisms of the UCP leader's past comments on health reform. They also spoke in support of maintaining the Canada Pension Plan and RCMP in Alberta.

Over the long weekend, the NDP announced their plan to allocate $40 million to create more trails, campgrounds, playgrounds and amenities. The NDP has also committed to cancelling the K-Pass, banning coal mining on the Eastern Slopes, and introducing legislation to prevent parks from being delisted and sold.
Yesterday, UCP candidate Nate Horner (Drumheller-Stettler) held an announcement highlighting UCP commitments to improve affordability. He drew attention to UCP commitments to cut income taxes, give tax credits to seniors, and continue the pause on the provincial gas tax.
Jim Foster, a former Attorney General, is condemning Premier Danielle Smith following the release of the Ethics Commissioner's report last week. He said the report vindicated his decision to support the NDP in this election. Foster was Attorney General in Peter Lougheed's PC government. The NDP has enjoyed several endorsements from former PC government Ministers over the past week.
The emergency wildfire situation continues. As of this afternoon, 69 wildfires remain active, with 20 burning out of control.
In the News
Campaign Announcements
UCP
NDP