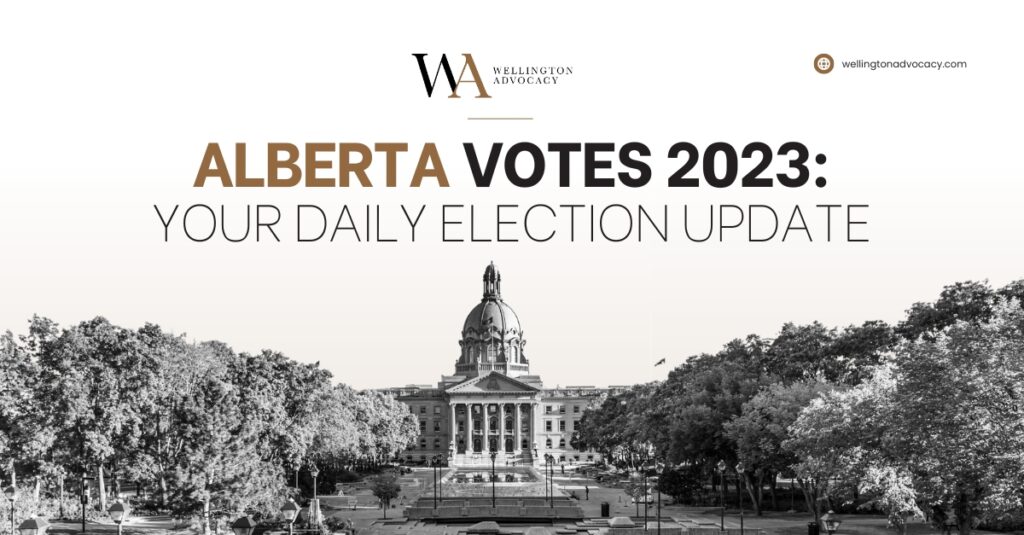 Day 25
Election Day: May 29, 2023
Latest Polls
Overview
As the parties look to seal the deal with prospective voters, both have made announcements outlining their proposed legislative agenda. Yesterday, UCP Leader and Premier Danielle Smith announced that her first piece of legislation, if successful in the election, would be Bill 1 the Taxpayer Protection Amendment Act. Today, NDP leader Rachel Notley gave an overview of the first three pieces of legislation her government would introduce should she be successful. Advanced voting continues with over 317,000 votes cast on Tuesday and Wednesday. As of this afternoon, the total has risen past 412,000.
Today
In Calgary, NDP Leader Rachel Notley detailed her party's plan for the next legislative session, should Albertans return her party to power on Monday. The NDP agenda listed at today's media availability included:
Bill 1 – the Save Albertans' Money Act, which the NDP says will lower the cost of utility bills, tuition, as well as implement $10/day childcare among other affordability-themed measures.
Bill 2 – the Investment Certainty Act, which would repeal the Sovereignty Act, eliminate the small business tax, and introduce new tax credit.
Bill 3 – the Pension Protection Act, which would restrict future governments from leaving the Canada Pension Plan.
Today, the UCP announced they would invest $80 million to create the "Community Recreation Centre Infrastructure Fund". The fund would work in conjunction with the Community Facility Enhancement Program (CFEP) to fund mid-sized projects such as pools, arenas and indoor turf centres. The announcement is similar to the NDP's promise to invest $100 million in the CFEP.
In Calgary, UCP candidates Rebecca Schulz (Calgary-Shaw) and Brian Jean (Fort McMurray-Lac La Biche) held a media availability criticizing the NDP corporate tax hike plan.
In Calgary, UCP leader Danielle Smith will hold a rally with local supporters this evening at 7 PM.
The UCP released an endorsement video this morning from federal Conservative leader Pierre Poilievre. The federal leader urged Albertans to vote UCP to "unleash the full potential of our Alberta economy in order to grow and prosper in the future."

In the News
Campaign Announcements
UCP
NDP