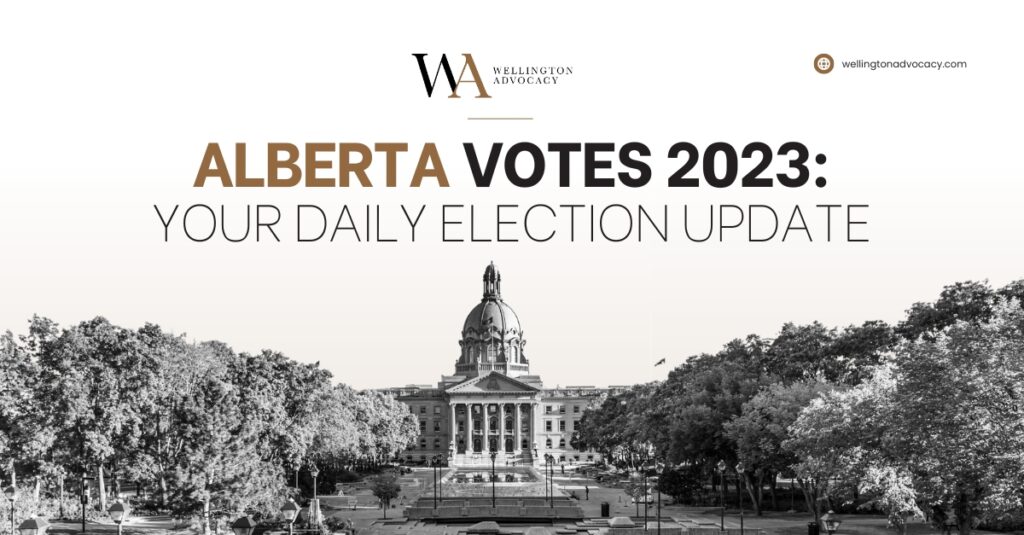 May 05, 2023
Latest Polls
Overview
The first week of Alberta's provincial campaign draws towards a close. Both the UCP and NDP have each made two large announcements this week: the UCP announced their tax cut plan and a jobs/skilled worker retention plan; the NDP announced a jobs plan and had an education announcement. But the increasing area of focus isn't necessarily the campaign itself – it's wildfire season and, as of this morning, the province is facing 78 active wildfires. The Emergency Management Cabinet Committee was reactivated by Premier Smith for a meeting today.
Looking ahead to the campaign next week, some details to keep an eye out for are the shifts within the regional results of polls and research. The recent Leger poll for Postmedia published yesterday, for example, showed the UCP taking a more pronounced lead among the widely-watched Calgary respondents, but also showed a tightening result between the two parties in the broad "rest of Alberta" category. As the campaign moves towards its second week, it'll be worth keeping an eye on whether these regional shifts are sustained in other research or if this was a one-off finding.
Today
Premier Danielle Smith reactivated the Emergency Management Cabinet Committee today, which met at 2:30pm this afternoon to discuss the ongoing wildfire situation in the province.

In a rare election period-timed government news conference this morning, provincial emergency officials provided an update on the current wildfire situation. As of that morning update, 78 wildfires are actively burning in the province with 19 identified as out of control. Officials stated that 25,000 hectares of land have been burned so far, a number higher than recent years, but the situation is believed to be in hand.

From Calgary, UCP leader Danielle Smith appeared on Global News Morning. Later in the day she planned to join Jason Copping in the Calgary-Varsity constituency, where the UCP's Health Minister is seeking re-election.

Also in Calgary, NDP leader Rachel Notley made an education announcement, saying that an NDP government would hire 4,000 additional teachers and 3,000 additional educational assistants and support staff.

NDP leader Rachel Notley and local NDP candidates are holding a rally with supporters tonight at the Abbeydale Community Association. The event is located in the constituency of Calgary-East, where NDP hopeful Rosman Valencia is challenging incumbent UCP candidate Peter Singh.
In the News
Campaign Announcements
UCP
NDP